Hair Styling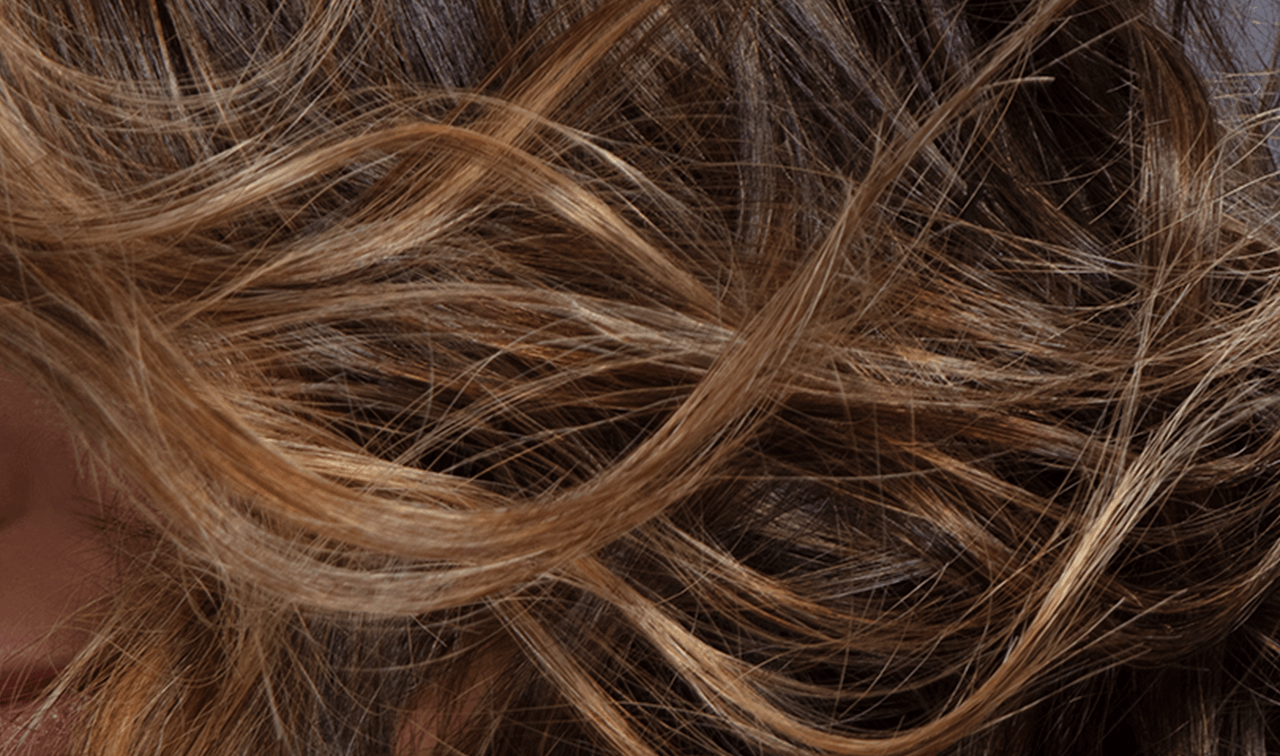 A recent resurgence of luxurious, dark brown hair has been referred to with the term, "Expensive Brunette." However, this terminology has more to do with the color than the actual price tag and is often more about embracing a natural brown hair color with a rich, glossy finish, but with a few small enhancements.
The bar for creating hair color has been raised tremendously as a result of clients scrolling through social media. They are now able to see and better understand our hair colorist jargon on a whole new level. It's neither good nor bad, just a relevant point to acknowledge. Our clients expect more from us. They expect us to use better tools and advanced techniques, offer a refined experience, and do much more than just squeeze a bottle of haircolor over their heads at the shampoo bowl. More than ever, a client may sit in our chair and asks for a trending term such as, an Expensive Brunette look. We often stand there nodding our head while thinking to ourselves, "Okay. Another name for an old technique." Perception is reality to our clients. If the client's perception of an Expensive Brunette is a brand new look that is going to make them feel fabulous, then it's up to us, as the professional, to execute that look and put our ego aside.
You may ask yourself - what exactly is an Expensive Brunette? It's more than just a solid color roots to ends! Brunettes want dimension that is rich and balanced between warm and cool. They want pops of brightness when their hair moves and ribbons of color that enhance their best facial features. The key to looking "expensive" is creating a beautiful hair color that complements your client perfectly, and maintains its shine and smoothness. Following are some tips, tricks, and techniques from my personal take on creating an Expensive Brunette on your clients.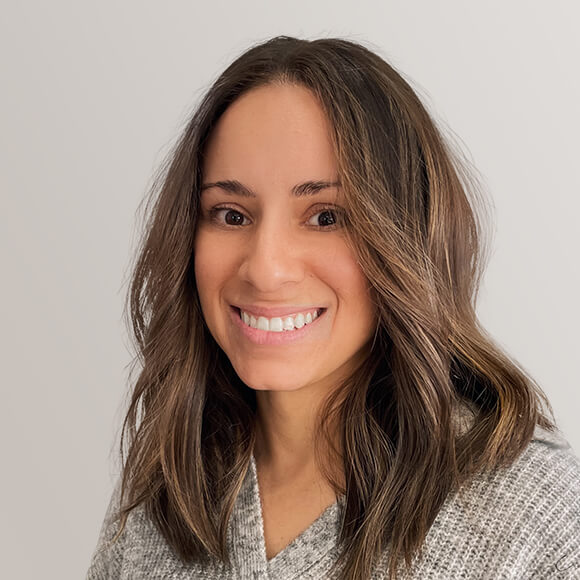 Determine Your Dimensional Placement
Assess the client's face. Determine where you want to draw attention with highlights. Less is more with brunettes. Place foils in sets where they make the most impact and leave out enough darkness or enhance the deeper tone in order to strike the perfect balance of dimension without turning them bronde. An example of a foil set would be: 2 weaves painted roots-to-ends followed by 2 end lights painted mids-to-ends with no hair left out in between the foils. Visually you would have 4 foils grouped together with 1-2 inches of hair in between sets. For brunette foiling,
thermal wraps
are a wonderful foiling alternative and can be folded, rolled, or left to hang very neatly. They retain heat as well as foils and do not slip once color is applied. A clean lift (think the inside of a banana) is the best place to start with your
Expensive Brunette
. This allows the fade process to be more controlled and less brassy.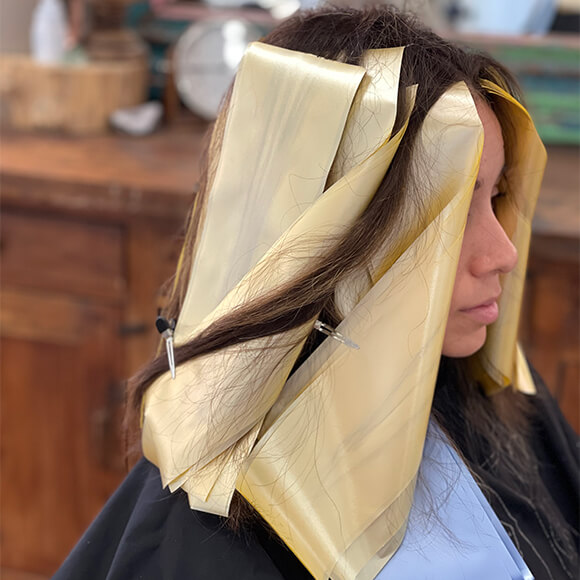 Double Glossing
Once your highlights have fully processed along with any gloss formula in between the foil sets, it's time to get serious about the glossing process. Shampoo, rinse, and blot the hair dry. When the client is back in your chair, you can use a disposable cape in a superman fashion to keep the process clean. This is an up-leveled experience moment. I recommend mixing your glossing formulas in your favorite color bowls instead of a bottle applicator. Again, an up-leveled moment! You will need a root smudge formula and a mids-to-ends gloss formula. Apply your root smudge at the root, up to an inch or two away, depending on your desired result, beginning in the back crown leaving an inch of the hairline out. Use a clean feather bristle brush and dip ¼ inch of the bristles into the root smudge formula and tap the root around the front hairline no more than a ½ inch. Begin your processing time with the triple color timer.
Before moving on to the final gloss, apply a sheet of balayage film over the crown and top of the head to avoid color transfer when clipping up sections. Start at the nape and clip hair up and lay on top of the film as you work in 1-inch subsections. Detangle the hair starting below the root formula with a color comb. Make a peace sign with your fingers as you press into the mids-to-ends gloss while sweeping your color brush in an X motion. Stop your application 1-2 inches from the ends based on the porosity. Work the saturation of the gloss down to the ends with your color comb using a peace sign technique. Work in vertical sections on each of the front sides pulling the complete subsections to lay over the back of the head. Apply to the hairline last. Clean up your client's skin immediately after you complete the application to avoid stains.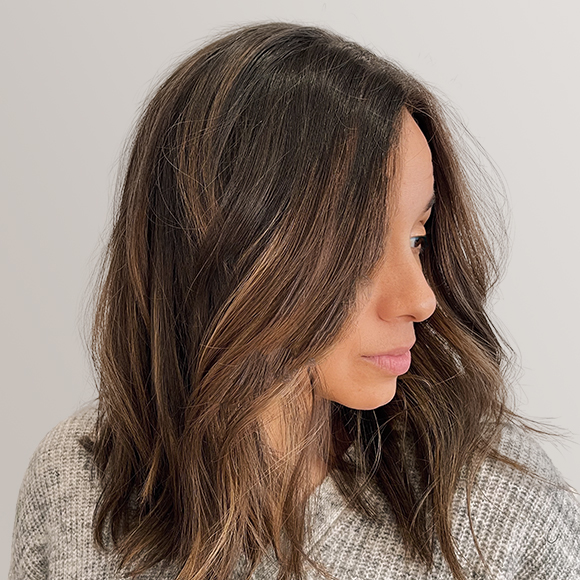 PROPER MAINTENANCE
It takes a 50/50 relationship to maintain a high-quality hair color such as an
Expensive Brunette
. Your client needs to fully understand the importance of proper product usage, how often they need to come in for a gloss in between dimensional sessions, and how crucial it is to avoid high heat sources including hot showers, to maintain the brilliance of their hair color. It is your responsibility to provide them with the education they need and to maintain the health of the hair during the service. Once they have this, the longevity is up to them. A rich, expensive brunette may be low maintenance, but that doesn't mean it's low commitment.