Hair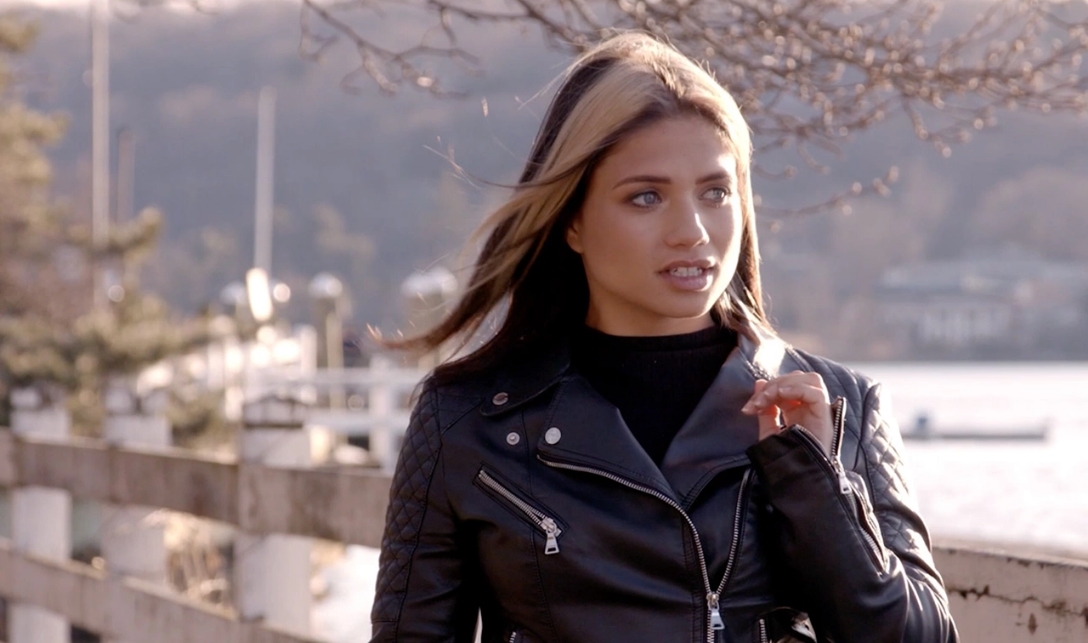 People often make choices about what to do with their hair based on a variety of different factors. Sometimes, the client is focused on whether their desired hair color is high maintenance or low maintenance. Not everyone can commit to a dedicated coloring schedule. If someone has a busy lifestyle and is constantly on the go, they will likely ask for a hair color technique with easy upkeep that makes them feel good about themselves without a ton of commitment.
Other times, the client might be looking to make a bold, dramatic hair color transformation. Hair color has the power to influence our outlook. Sometimes, we need a new perspective and the feeling of a fresh start when it comes to how we present ourselves to the world. This can be going from blonde to brown, brown to blonde, blonde to red - you get the picture.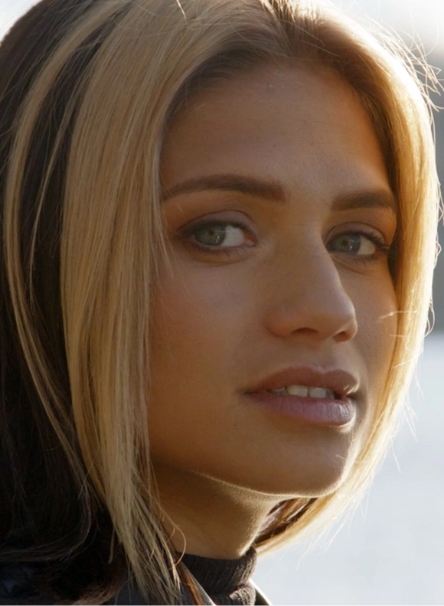 High Contrast Hair
Color blocking is a choice that can be made to create a strong statement look, and can be done in many different ways depending on the client's preference. This technique can be underneath the hair, where you have a dark section that emphasizes a lighter top section to create contrast. It can also be any variation of vivid color pocketed internally to sweep out when the hair moves in different directions. Split dye hair, where hair is parted in the middle, is also an option. This is when one half of the head features a light or vivid color, while the other half is typically a darker hair color. One of the most popular ways to color block is a strong placement on the top that wraps around the face, emphasizing the contrast by adding a light color right in front that pops against a darker color in the back.
High contrast color is a dynamic hair color statement. Done successfully, this color technique creates very clean contrast between the base color and the color blocking. Sectioning is very important during this process because it is necessary to keep the different colors away from each other to avoid them blending together. Use sectioning clips to isolate the hair as you choose where to put the color.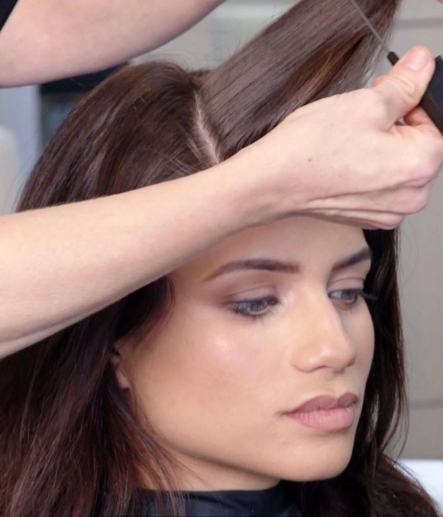 Keep Your Sections Clean
Consider how the client wears their hair, what their hair texture is, where they naturally part their hair, and how it flows within the design. The light portion is only dynamic when measured against the contrasting color. I also believe that the proportions are worth looking at, too. If you take sections that are too small, the balance could seem off or lack impact. On the other hand, sections that are too large could make the piece that is left out look like an afterthought. Once your desired placement is decided, move on to keeping the sectioning clean.
Clean sectioning can be facilitated in many different ways. For my client Christina, I used foil and balayage film to separate the sections. This can also be done with thermal wraps, clear thermal film, highlighting paper, or even a processing cap to isolate the hair. The finished result of this technique is only as good as your ability to isolate each color from one another. Any transfer of a darker color on light hair, or lighter color on dark hair can cause spotty smudges in the hair. The goal is clean, crisp differences of color that are dynamic and strong.
Before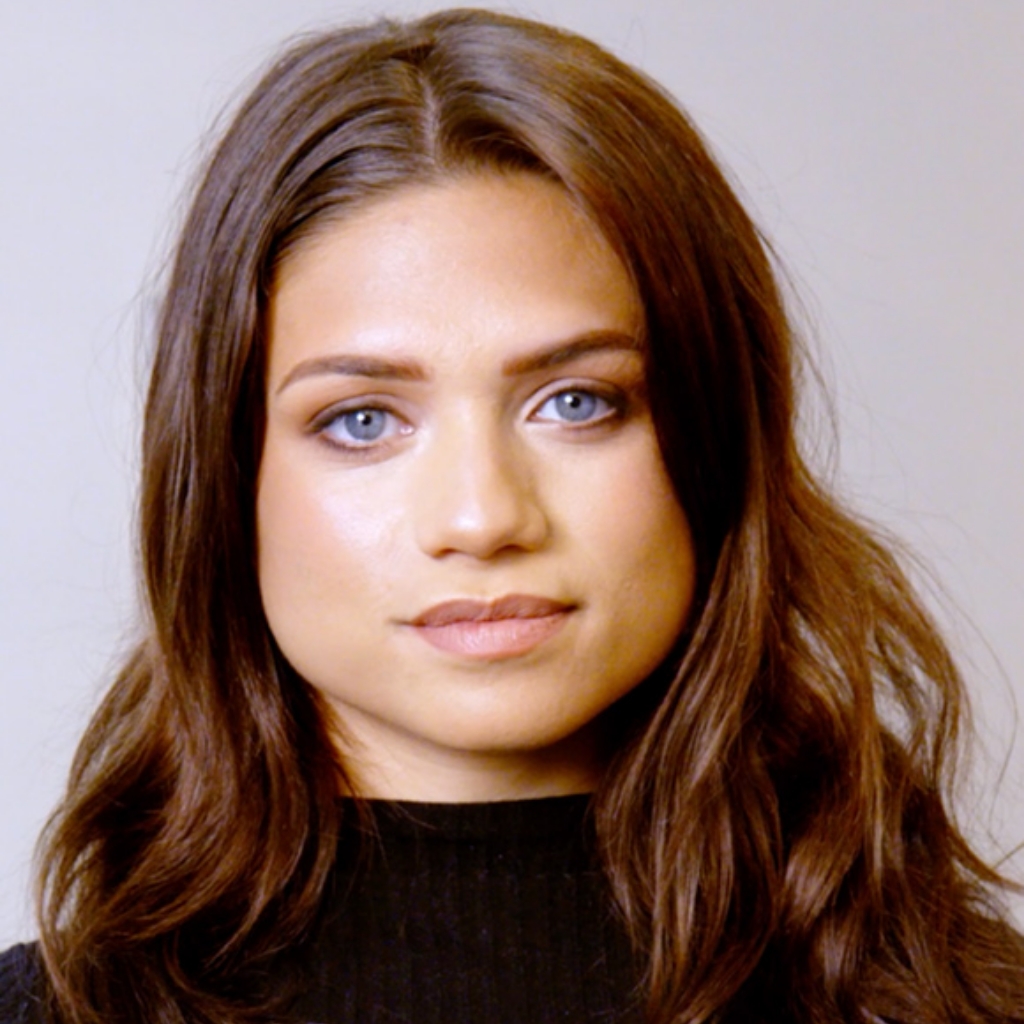 After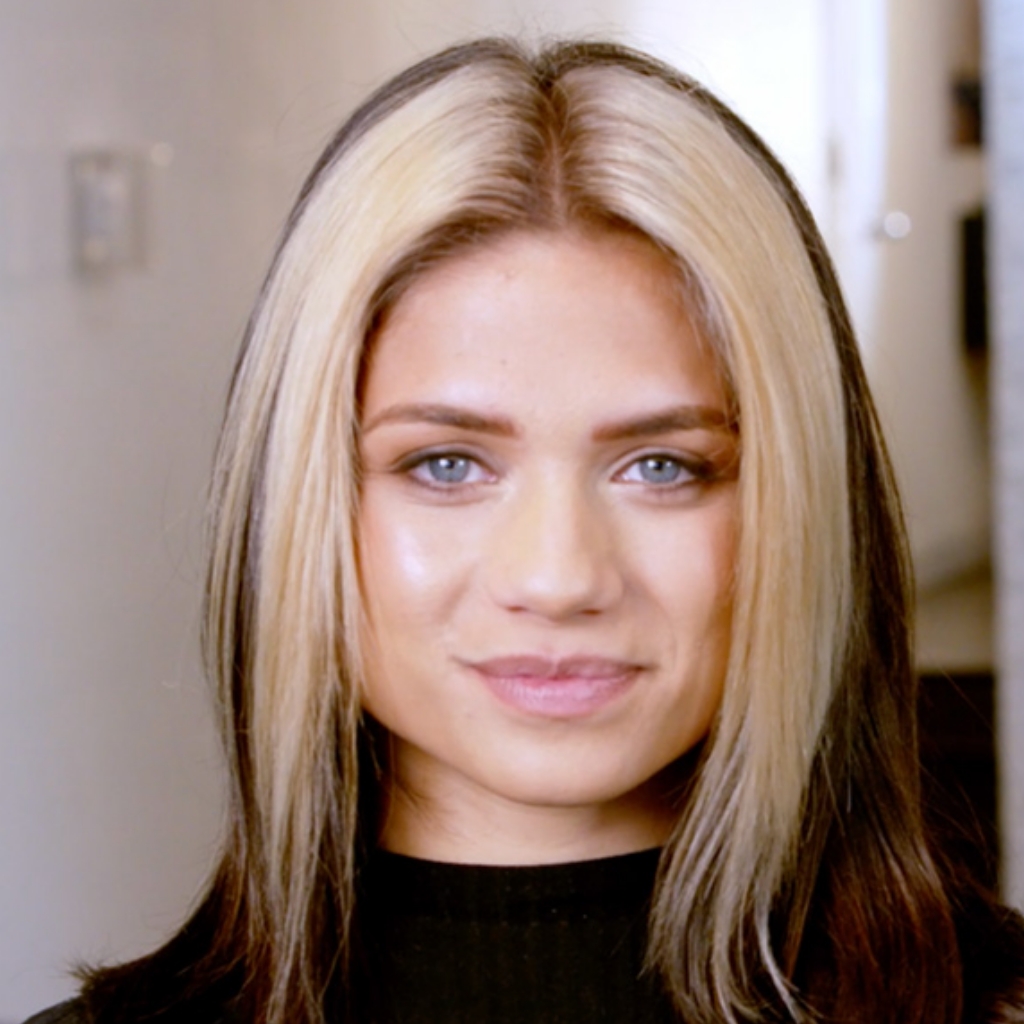 Overall, clean sectioning, proper use and choice of foil, good lightener saturation, and isolation were key to producing this really flattering color blocking effect on Christina. I love the energy this bold look gives her. The contrast gives her a lot of flexibility in how she can wear her hair, and is really versatile. Strategies in design with the proper tools for application and creating color barriers make this look successful when using sound formulation practices to protect hair's integrity. This is a fantastic technique for someone who's looking for a bold look without lightening the entire head.