The Salon Business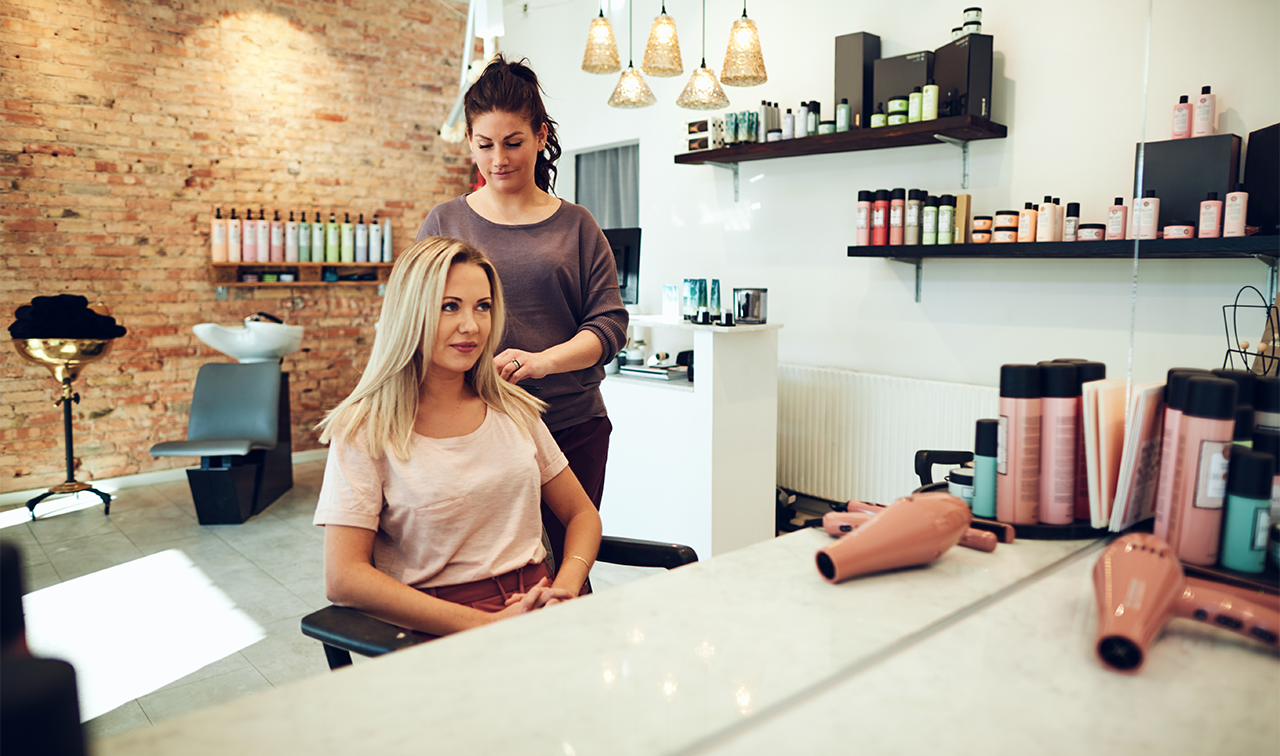 The beauty industry is constantly changing and growing. Along with new and innovative trends in hairstyles and hair color, the way we practice our craft and run our businesses has also evolved. Over the past several years, salon suites have grown in popularity because they are more affordable than owning a salon and provide numerous benefits to stylists. As a result, salon suites are becoming one of the fastest-growing trends in the haircare industry because they offer flexibility, increased freedom, more creative control, and the opportunity to be your own boss.
Read on to find out everything you need to know about a salon suite, including the pros and cons, so you can consider if this may be the right move for your career.
WHAT IS A SALON SUITE?
A salon suite is a fully set-up, private, mini salon that you can rent. It comes equipped with most equipment and furniture and is usually move-in ready. Salon suites are often located in a large commercial space that is also occupied by other similar professionals. Unlike renting a chair at a salon and sharing some of your profits, all you pay is rent – you get to keep everything you earn! Plus, you don't have to deal with the additional risks, overhead, and related expenses of owning a full-service salon.
PROS OF RENTING A SALON SUITE
If you dream about becoming your own boss, having a schedule with more flexibility, and creating a salon environment based on your individual ideas and creativity, moving to a salon suite can be enticing. Following are some of the advantages of a salon suite:
You Get to Be Your Own Boss – This is probably the number one reason to rent a salon suite. You are in charge of your business, your income, and your career. With a salon suite, you set your own rates, create your own hours, choose the services you provide and the products you use – and ultimately run your business the way you want to!
You Can Personalize Your Space – You can express your creativity and unique personality in the design and theme of your suite. You get to choose the artwork, color scheme, décor, music, and more to create a space that truly represents you, your brand, and your business.
Create Your Own Schedule – Flexibility is another appealing feature of a salon suite. When you have a salon suite, you are not tied to the hours of a salon. If you don't want to work weekends – you don't have to, if you want to close at 4:00 pm – you can! You manage your schedule, based on what works for you.
One-On-One Attention to Your Customers – In a private salon suite, you can focus on your client without the distractions of a busy salon. It can also offer a more intimate, peaceful environment, which is alluring to many clients.
You Keep Your Profits – Another major feature of the salon suite. After paying rent and any related business expenses – the profits go to YOU! If you work in a salon, a portion of your profits go to the salon owner; but that's not the case with a salon suite.
CONS OF RENTING A SALON SUITE
There are lots of great reasons to consider a salon suite. However, as with any new business venture, there are always additional obligations. Following are some of the challenges you may face when you rent a salon suite.
Running a Business is Not Easy – It's great to be your own boss, but it also means that you have added responsibilities. As an independent business owner, you have to consider things like budgeting expenses, insurance, taxes, finances, and any related legal issues. As an employee of a salon, you don't have to worry about these things.
It's Up to You to Market Your Business – Now that you are running the show, you have to market yourself and find your own clients. Whether you choose to advertise, create a website, or use social media – keep in mind that this involves extra time and effort on your part. It may also incur added expenses for your business. And unlike full-service salons, walk-ins will not be as frequent.
It's All You! – As a sole business owner, you will be in charge of everything, not just styling or coloring hair. This means you will be responsible for ordering products, making appointments, responding to customers, keeping your suite clean, and lots more. Of course, you can hire an assistant, but it will be an added expense.
THE CHOICE IS YOURS
Whatever stage you are at in your career, a salon suite may be a smart option for you. If you are ready for a change and want to take control of your career and your future, a salon suite is worth considering. More than just a trend, salon suites can help beauty industry professionals grow and achieve success without investing the time, costs, and commitment it takes to run a full-service salon.
Subscribe to The Club for further resources and to stay on top of the latest styles, trends, and techniques.